The alarm goes off. I wake up feeling refreshed, energized, and slightly amused at how little time I have to actually get ready for the daily work grind. Once I began to throw on my work-ready ensemble (which consisted of a pair of pants...something I haven't worn in MONTHS), I realized how fun it would be to have a small blog feature about transforming my basic "look" from daytime work wear to night time fun. It did take me some thinking time to plan out a basic night time look for a concert I was headed to that night, but throughout the day my plans just fell right into place.
Day
:
Blouse-Gap ($12), Blazer-Foreign Exchange ($22), Jeans-???, Brogues-Salvation Army Vintage ($19)
Night
:
Blouse-Gap ($12), Blazer-Foreign Exchange ($22), Skirt-Urban Outfitters ($10), Wedges-Urban Outfitters/Dean&Ozzy ($30), Bib Necklace-Gift/Etsy ($19)
Staple pieces in my work outfit were the blazer and the white top. These were both recent purchases over my winter break in Orange County, and loved the combination! It was just baggy, loose, comfortable, and the little pleating details just add so much girliness to the other bold basic pieces. Paired with a demure braid-bun (in which I braided my hair and flipped it around to make a sweet little back bun), I had a very comfy and heart-worthy work outfit.
Inspiration: Asobi Seksu - Thursday (YOUTUBE)
Switch over to the night scene, I was getting ready to head out to an
Asobi Seksu
concert. (If you haven't heard of them, you must check out their music! I provided a youtube link prior to this paragraph!) I kept the key top and blazer, and instead substituted it for a girly skirt, tights, and my new Dean & Ozzy wedges. All together it was a very minor wardrobe change, and I darkened my makeup and threw on some fiery lipstick. (In detail, I mixed Taihiti Red and Scarlett from MAC to create my color!)
Overall...excellent day. And my dear partner-in-crime helped take photos of me like a "mini photoshoot" right after the show. It was so silly and fun! Especially when he started following me and taking photos of me just walking about.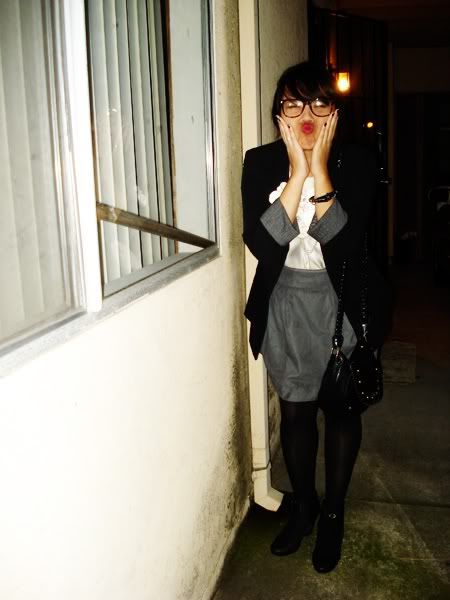 Me being silly (photo thanks to Rachel)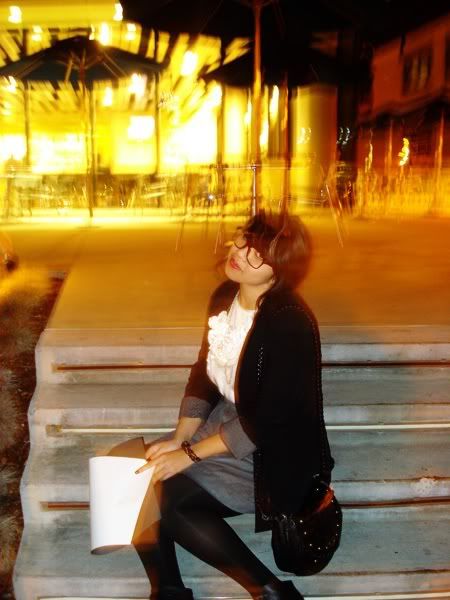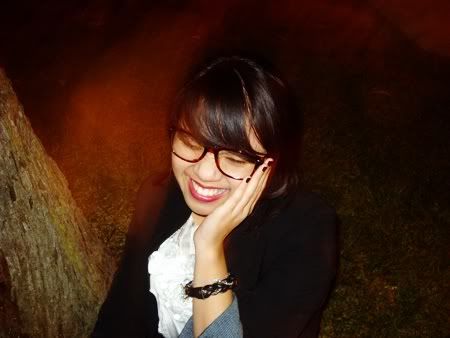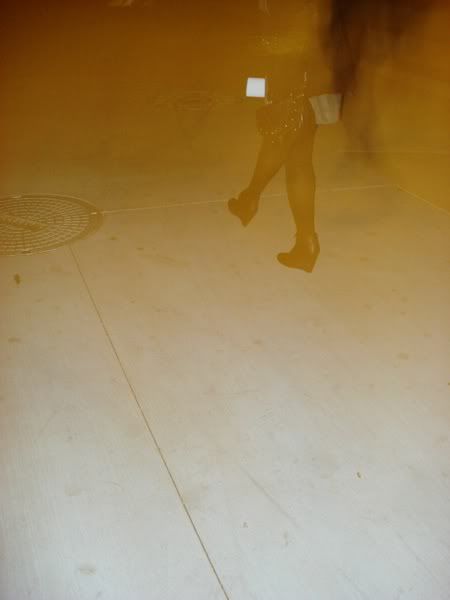 I hope you all enjoyed my post! Honestly, it may seem most advantageous for me to resolve blogging more. Hopefully this may yield fruitful results! Ciao!