My new fur just arrived.
FAUX
fur, anyways. I'm so pleased with it, it goes with almost everything and it's amazingly soft to the touch. Quite the $20 ebay investment, if I do say so myself. :)
In my last post I told myself I would wear more color. After a small venture through H&M, I emerged with this red red dress (which I opted for over an exact navy one due to my dedication to more color) and I'm enamored by it. I have to admit, I was influenced a bit by Erin Fetherston's Fall 2009 red palettes.
Ah, absolutely lovely. In case you haven't noticed, she's absolutely my most beloved designer!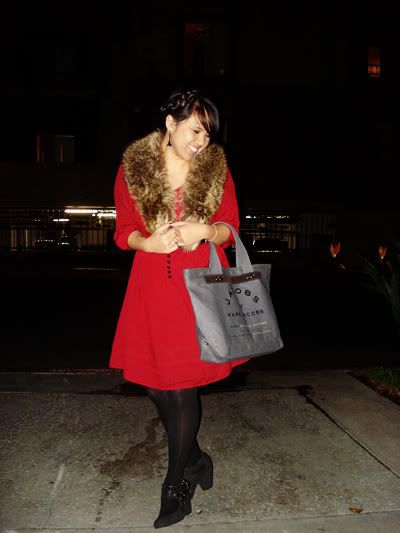 Red Dress - H&M ($10)
Faux Fur Collar - Ebay ($20)
Dean & Ozzy Heels - Urban Outfitters ($10)
Marc by Marc Jacobs Bag - boutique ($28)
Eiffel Tower Earrings - Marc by Marc Jacobs ($7)