That promise to wear more color is going absolutely horribly. It can't possibly be me, can it? Do you all find it simply easier to deal with dressing in simple monochrome than in a beautiful mess of colors?
I honestly think my hat is meant to redeem that somehow, but in a rather poor fashion.
I'm not much of a fan of wearing non-black flat shoes with my black thigh highs, but today just happened to be one of those days where I throw up my hands and go "why not?" and went a point or two up on my spontaneity scale. Of course it's not quite
Style Bubble
status of eclecticism, but at least I'm slowly making progress.
It feels good to simply
try
again.
Lykke Li - Will You Still Love Me Tomorrow? (The Shirelles cover)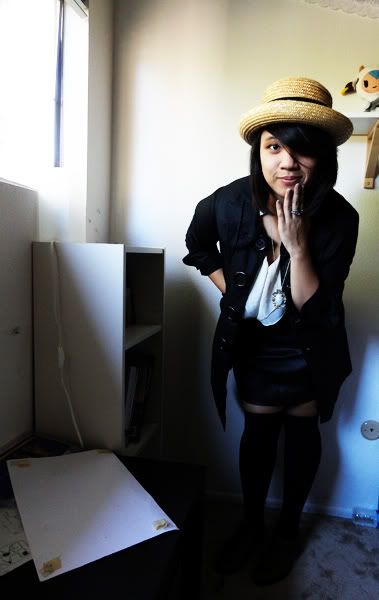 White Ruffled Blouse - Urban Outfitters $20
Leather-esque Waist Skirt - Buffalo Exchange $14
Black Coat - Metropark $20
Vintage NineWest Brogues - Salvation Army $9
Vintage Straw Hat - Salvation Army $3